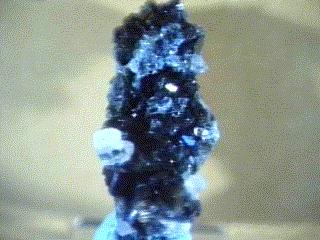 LAZULITE
Specimen laz-2
$ 48.00
Dims: 1-3/4" x 7/8" x 7/8"
Wt: 21.8 g
Rapid Creek, Yukon Territory, Canada
Though not as large as other specimens, the crystals on this piece are no less spectacular in their color and form. Deep blue, seemingly opaque crystals of Lazulite cover one face of the host rock. There is noticeable damage where some of the crystals have been crushed, but most are in excellent form. A few minute but excellent crystals of quartz are on hand to lend contrast. A lovely specimen that could fit into a curio cabinet with some deft manipulation of the tacky clay that affixes the specimen to its acrylic base.