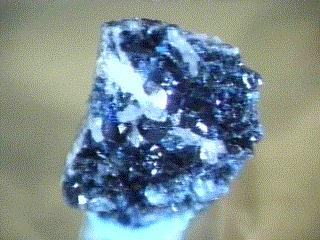 LAZULITE
Specimen laz-1
$ 60.00
Dims: 2-1/8" x 1-5/8" x 5/8"
Wt: 2.25 oz
Rapid Creek, Yukon Territory, Canada
This is one beautiful piece! The Lazulite crystals reach a maximum length of about 1/4 inch, and are clean, free of internal flaws as well as can be seen, and are colored a brilliant dark blue! The crystals are flattened prisms, and are accented by a few small quartz crystals of high quality. This specimen is extremely beautiful, and needs a loving home!