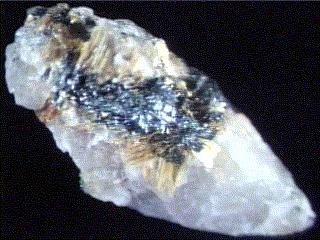 RUTILE
Specimen rut-3
$ 35.00
Dims: 4" x 1-5/8" x 1-5/8"
Wt: 5.6 oz
Ibitiara, Bahia, Brazil
Though this specimen could be classified as "rutilated quartz," I decided that since the quartz is not crystalline, the specimen could go here. The quartz host contains a large amount of hematite from which the needlelike crystals of Rutile emerge. There isn't a great amount of Rutile, but there is an area that shows some decent crystals in a six-rayed formation that seems to be the most popular among collectors.