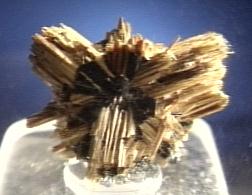 RUTILE
Specimen rut-2
$ 38.00
Dims: 3/4" x 3/4" x 1/4"
Wt: 3 g
Ibitiara, Bahia, Brazil
The positioning of the Rutile clusters in this specimen is a really good example of the tendency of these crystals to radiate at 60-degree increments. These crystals show the classic gold color and metallic luster of Rutile, and radiate from a crystalline Hematite center. This is one of our finest specimens of Rutile, and will certainly help to round out the "Oxides" section of any collection.