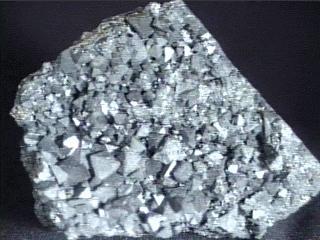 MAGNETITE
Specimen mag-3
$ 180.00
Dims: 4-1/4" x 3-1/4" x 2-1/2"
Wt: 1 lb., 13.1 oz
Republic Mine, Hanover, Grant Co., New Mexico, U.S.A.
This particular specimen has more Magnetite crystals on it than any that I have seen; I don't think that I could count them all and still remain sane! The entire specimen is made up of Magnetite; only a small portion occurrs in a massive form, whereas the bulk of the specimen consists of intergrown octahedral crystals of varying size(1/16 to over 3/8" along an edge). There is noticeable damage to some of the crystals, but these tend to be small ones. Amidst the crystals are rusty patches of oxidation. They have good form as a rule and a rather dull luster and the inevitable black color. There are LOTS of crystals on both the "top" and "bottom" of this specimen, so a rotating stand may be the best way to expose all of them to the viewer.