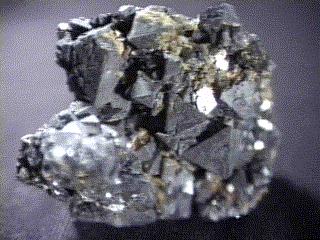 MAGNETITE
Specimen mag-2
$ 125.00
Dims: 2-3/4" x 2-1/2" x 1-1/2"
Wt: 7.1 oz
Republic Mine, Hanover, Grant Co., New Mexico, U.S.A.
There are many, many crystals of Magnetite on this specimen! As a matter of fact, apart from some surface rust, the specimen is made up entirely of Magnetite. The largest complete crystal measures 1/2" x 1/2" x 11/16", and all complete crystals have relatively clean faces with minimal damage and some interesting growth patterns. They are black, needless to say, and exhibit a submetallic luster. There is a lot of material here-- almost a half a pound, or about 1/5 kilo.