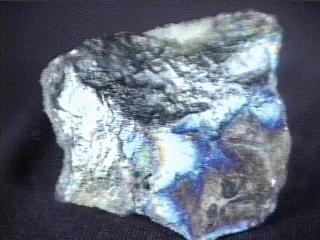 HEMATITE
Specimen hem-9
$ 54.00
Dims: 3-5/8" x 2-7/8" x 1-3/4"
Wt: 7.1 oz
Goldfield District, Nevada, U.S.A.
One of the more colorful Turgite specimens that I have seen, this pleasant chunk of hydrated iron oxide not only has a generous rainbow-colored iridescent coating, it also shows a surprisingly large amount of botryoidal formation. These formations do not get very big(mostly 1/16" diameter nodules or smaller), but they cover an impressive percentage of the specimen's surface area. The piece's color spans the visible spectrum, and most of the iridescing areas have a submetallic to metallic luster. The areas without color also have a generous amount of this luster, which helps to emphasize the points where the iridescence begins. There is a whitish to colorless material that coats a part of the surface that I cannot identify that seems to be a bit weathered, but has a vitreous luster and no definite crystal form. Hmmm. Pretty rock, though.