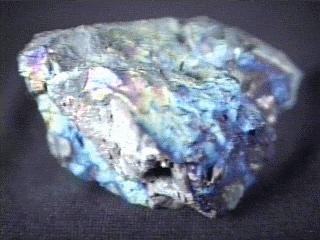 HEMATITE
Specimen hem-8
$ 54.00
Dims: 3-5/8" x 2-7/8" x 1-3/4"
Wt: 12.9 oz
Goldfield District, Nevada, U.S.A.
I would say that this Turgite specimen "has some heft"- it weighs in at over 3/4 lb. Where there is no iridescence, the black material has a dull luster, with some areas appearing to have spots of "rust" on them. The iridescent areas have colors that span the visible spectrum and a submetallic to a metallic(occasionally!) luster. There is no visible matrix, but one area has a white, powdery substance on it that seems to have occurred with the other material. I love the iridescent color- it reminds me of the rainbows that oil leaves on water.