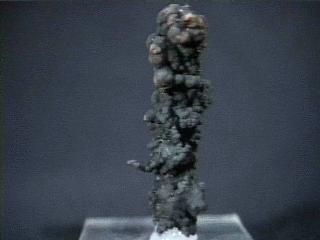 GOETHITE
Specimen goe-5
$ 18.00
Dims: 2-5/8" x 7/8" x 1"
Wt: 1.35 oz. w/ base
Chihuahua area, Mexico
One of many, this Goethite stalactite has the basic black color, lack of crystal form, and matte luster of its kind. A small portion of it is colored a red brown due to limonite, which may have formed as a decomposition product on portions. The stalactite has a form that is partially dendritic, partially botryoidal, making the specimen appear as a plume of smoke that was frozen in place. It is hot-melt glued to an acrylic base.