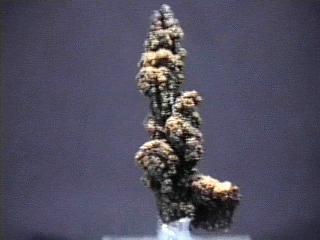 GOETHITE
Specimen goe-4
$ 18.00
Dims: 3" x 1-1/4" x 3/4"
Wt: 1.6 oz. w/ base
Chihuahua area, Mexico
This lovely Goethite specimen comes in the form of a stalactite, with botryoidal formations that make it look like "frozen smoke". Its color is black, with some portions of it looking a rusty brown color from a dusting of limonite. It has a matte luster with no detectable crystal faces and almost no visible damage. It has been affixed to a 2" square acrylic base with a hot-melt glue.