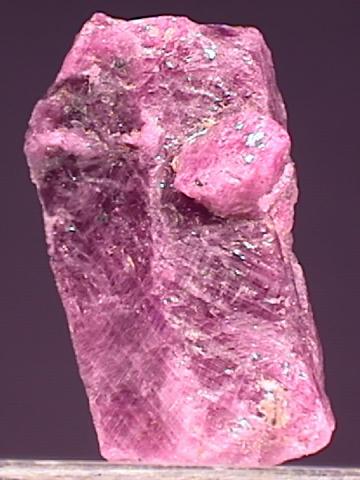 RUBY
Specimen rub-23
$ 50.00
Dims: 1.2 x 0.7 x 0.6" (3.0 x 1.8 x 1.5 cm)"
Wt: 18.2 g
Subramanium, Karnataka, South India
Two intergrown Ruby crystals make up this thumbnail specimen. One is much larger than the other- its dimensions make up those of the entire specimen- and is complete, whereas the smaller crystal is damaged, incomplete, and mostly intergrown with the larger one. Both have good but slightly warped hexagonal prismatic form with flat, basal terminations; the larger crystal is double-terminated. Their edges are well-defined, but their faces are heavily patterned by small growth projections. Their deep red color with a hint of violet is standard for pieces from this locality, and only the small crystal shows noticeable translucence. There is no host rock present.