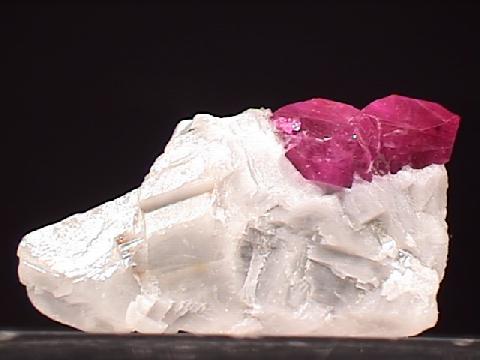 RUBY
Specimen rub-22
$ 115.00
Dims: 0.9 x 0.5 x 0.3" 2.3 x 1.3 x 0.8"
Wt: 3.1 g
above Hassanabad, Hunza, Northern Areas, Pakistan
This small thumbnail specimen consists of at least 4 Ruby crystals that are partly embedded in a white pegmatite host rock. The rubies are in basically good condition, showing a few small chips out of some edges, and do not exceed 0.3" (8 mm) along any axis. Their hexagonal prismatic form is badly warped due to intergrowth and other conditions, but one crystal is somewhat well-formed. They do have well-defined edges, though, and a few clean faces that possess a dull pearly-to-waxy luster. Their color is excellent, being a moderately deep red with a hint of blue, and all are translucent-to-transparent, with one crystal showing some dim but noticeable clarity. One Ruby crystal does not appear to be intergrown with the rest, and is almost completely obscured by the surrounding pegmatite. Only a few bits of muscovite accompany the crystals.