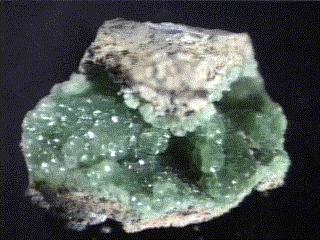 SMITHSONITE
Specimen smi-9
$ 140.00
Dims: 2-1/2" x 2-1/2" x 1-1/4"
Wt: 6.42 oz
79 Mine, 400 Steppe, Hayden, Gila Co., Arizona, U.S.A.
I've just found a new "favorite Smithsonite" specimen! The fact that it doesn't come from New Mexico, and that it comes from the 79 Mine, a known lead-mineral locality makes it a bit unusual. Besides, the color is splendid, being located somewhere between a grass-green and the yellow-green of peridot. Of course it has that lush, "melted wax" luster that drives me insane. Like other Smithsonite specimens, the botryoidal formations are somewhat protected by overhangs that make crevices for the mineral to hide in.