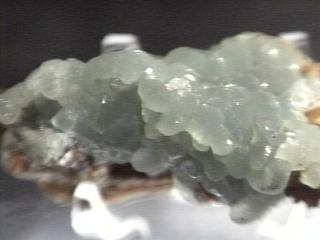 SMITHSONITE
Specimen smi-2
$ 65.20
Dims: 2-1/2 x 1" x 1/2"
Wt: 2.9 oz
Kelly Mine, New Mexico, U.S.A.
This is one of our prettiest New Mexico Smithsonite pieces; it is tall and thin, and the word "stalactitic" comes to mind. It has a rusty matrix, with tiny, botyroidal formations in between the larger globules of pale, blue-green Smithsonite, which cover about 1/3 of the specimen's surface area. Then, of course, there's that inimitable, silky, "melted wax" luster that I simply adore!