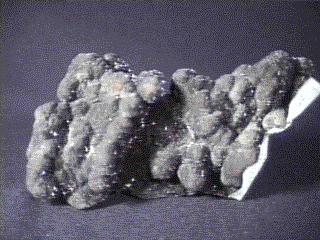 SIDERITE
Specimen sid-2
$ 70.00
Dims: 6" x 3" x 1-1/2"
Wt: 2.3 oz
Junction Shaft, Bisbee, Cochise County, Arizona, U.S.A.
I love this next piece; it's one of our highest-quality Siderite specimens, and is one of the most aesthetically pleasing of any specimen that I have seen. It looks as if it occurred as a stalactite that was hanging down from a cave. It is a brownish-black color and has a botryoidal form. The surface is mostly covered with a fine druse that has a purplish tinge to it and an amazing velvety luster- I mean, it actually looks like there's velvet on the rock! Hot-glue this onto an acrylic base, and you will have a specimen that I think some museums couldn't beat!