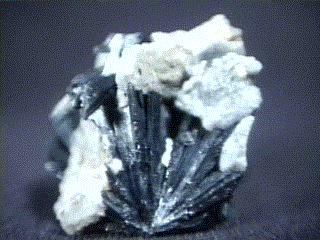 STIBNITE
Specimen sti-3
$ 37.50
Dims: 1-1/2" x 1-3/4" x 1"
Wt: 1.4oz
Huaron Mine, Ancash, Peru
Several excellent clusters of Stibnite crystals adorn this specimen. The crystals are darkly metallic and reach up to 1/12 inches long, and all of the clusters start at points on the edges of the specimen, radiating inwards. The matrix that they penetrate is a mystery to me- I would think it should be calcite, but this material doesn't react to acids! It looks feldspar-related, but there are no feldspars in the Ancash mines, so I guess that leaves quartz. This is a terrific little piece!