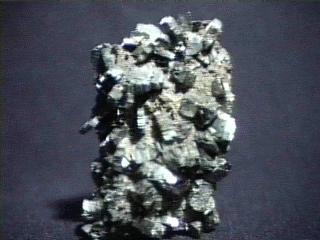 MARCASITE
Specimen mar-1
$ 100.00
Dims: 3-1/2" x 3-1/2" x 2"
Wt: 1 lb., 1 oz
Tri-State Mining Dist., Joplin, Missouri, U.S.A.
Dozens of impressively sized Marcasite "spearhead" or "cockscomb" twins adorn this specimen. The largest crystal measures 3/4" from base to termination and most of the remainder measure between 3/8" and 1/2". There is a substantial amount of damage to certain areas, resulting in spots of crushed Marcasite, but those crystals which are complete have very little damage, if any. Almost every crystal on the specimen is twinned and in a "spearhead" form. This is a very beautiful specimen with quite a lot of Marcasite on it.