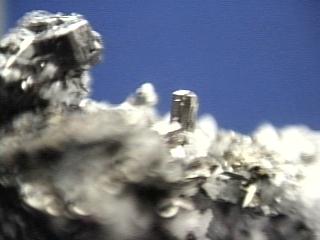 ARSENOPYRITE
Specimen ars-2
$ 70.00
Dims: 2-1/2" x 2-1/2" x 1"
Wt: 5.3 oz
Pachapaqui Mine, Ancash, Peru
"Variety" is the key word I use when describing this specimen. Besides the obligatory 1/4 to 3/8 inch prismatic and dogtooth crystals of Arsenopyrite, there is a veritable "sulfide stew," containing Pyrite and big, clunky Sphalerite crystals, one or two of which seem to have partial coatings of a metallic(Chalcopyrite?) dust on a face. All of this is accompanied by a minor infestation of small, milky quartz crystals. A great specimen for those who like a lot of action!