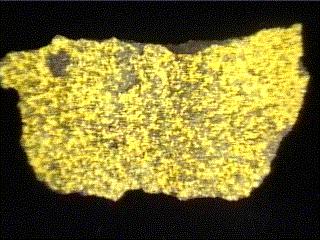 ZIPPEITE
Specimen zip-1
$ 60.00
Dims: 2-1/2" x 1-7/8" x 1/4"
Wt: 12.7 g
Ambrosia Lake Dist., Grants, New Mexico, U.S.A.
This specimen is officially labeled "Zipeite, Coffinite". I don't know which is which, to tell the truth. The former is a potassium uranyl sulfate, while the latter is a uranium silicate hydroxide. They're both likely yellow, and interspersed upon one side of the flat host rock in crystals that are so small that they just look like a yellow dust that has been spread over it like mustard powder. It's neat stuff to put under a longwave UV light, though, and I imagine quite rare!