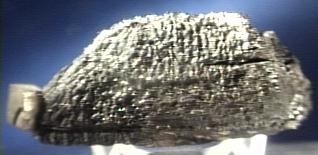 WOLFRAMITE
Specimen wol-1
$ 30.00
Dims: 3" x 1" x 0.7"
Wt: 3.7oz
Kara-oba, Kazakhstan
The bulk of this specimen is composed of a portion of a large, black crystal of Wolframite that has definite crystalline striations along its length. The tip is adorned by two cubes of Pyrite, and there are a few more cubes along one side. Also included are a few small Quartz(?) crystals and what look like some tiny spheroidal aggregates of Galena- one must look closely to see them. This is one of only a few specimens of Wolframite that we have, as it is difficult to obtain.