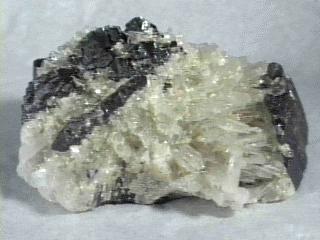 HUEBNERITE
Specimen hue-5
$ 120.00
Dims: 4-1/2" x 3-1/2" x 2-3/4"
Wt: 1 lb., 14.2 oz
Pasto Bueno Mine, Ancash, Peru
A very large specimen, this beauty has lots of Huebnerite, with at least 6 different formations of the mineral amidst a dense pack of quartz crystals that makes up the matrix. One particular formation is 2-1/2" long, and 1-1/2" wide. All show imperfect but definite singular and sloping termination faces, and have a deep, deep red color and a submetallic luster, and a small amount of damage, possibly due to weathering. This is one of the largest Huebnerite specimens that I've seen.