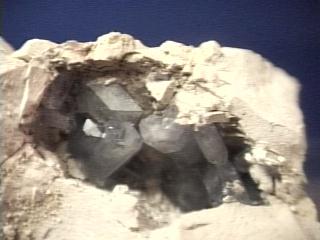 BARITE
Specimen bar-5
$ 60.00
Dims: 4.75"x 3.75" x 2.75"
Wt: 12.3oz
Weld County, Colorado, U.S.A.
While not one of the larger of our Colorado Barite specimens, this piece does have a lot of Barite, the majority of it nestled in a small vug in the chalky matrix. The crystals max out at an inch in length, and most of them are joined where they grew into each other. The blue color is very unusual, making a tasteful item to round out a collection.