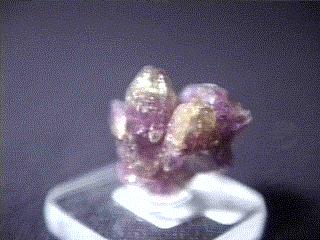 VESUVIANITE
Specimen ves-5
$ 35.00
Dims: 3/4" x 3/4" x 1/2"
Wt: 8.3 g. w/ base
Jeffrey Mine, Asbestos, Quebec, Canada
This specimen has only 2 complete crystals on it, but they are impressive, nonetheless. The larger of the two measures 5/8" long by 1/4 " in diameter, while the smaller measures 3/8" x 3/16". Both rest on a matrix that is made up of red-violet fragments of shattered crystals, and both of the complete crystals have the red-violet color from their bases to the beginnings of their terminations, whereupon the color changes abruptly to a greenish-yellow. Quite pretty!