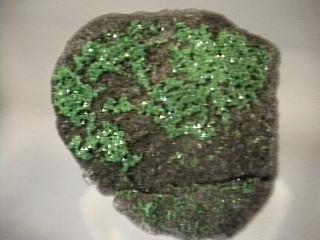 UVAROVITE
Specimen uva-1
$ 39.00
Dims: 1-3/4" x 1-1/2" x 5/16"
Wt: 1.1 oz
Sarany, Ural Mountains, Russia
By far the most expensive variety of Garnet, the Uvarovite crystals on this specimen are microscopic in size. Crystals are small as a rule and rarely ever exceed 1/8 inch in diameter. Their emerald-green color is evident, though, and along with its commonly dodecahedral or trapezohedral shape, convince the collector. This material is very difficult to get, and is definitely sought after in collectors' circles.