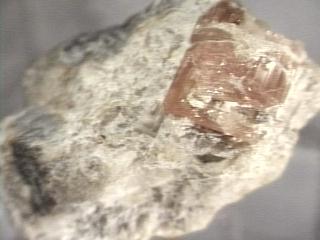 TOPAZ
Specimen top-2
$ 150.00
Dims: 2.50" x 2.50" x 2.25"
Wt: 11.1oz
Northwestern Frontier Province, Pakistan
I have always liked this piece. Sure, it has no termination and many flaws are visible, but it is a perfect specimen for a collector. The crystal face that is exposed is very clean and shiny, and the color is a beautiful tawny gold. At the bottom of the 1-inch-square crystal is an area of extreme clarity, enough to probably cut a stone out of, but why ruin the beauty of a gem amidst the abrasive background of its host rock? This specimen supports the belief that rough beauty is the purest form.