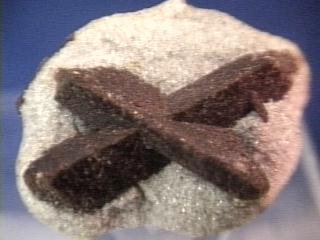 STAUROLITE
Specimen sta-1
$ 30.00
Dims: 1-3/4" x 2" x 1"
Wt: 2.4 oz
Kola Peninsula, Russia
This specimen from the Near East has a classic "cross" of Staurolite crystals intersecting at a 60-degree-angle in a finely-divided Muscovite matrix. Upon turning the specimen over one can see a complete individual crystal, which is actually less-commonly occurring than the twins are! Not very many dealers sell this mineral in the matrix, and our specimens are probably some of the first to come out of Russia. Now you can have your own little piece of "Glastnost!"