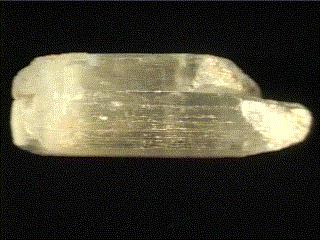 SPODUMENE
Specimen spo-1
$ 120.00
Dims: 3-3/4" x 1-1/4" x 1"
Wt: 4.86 oz
Northwestern Frontier Province, Pakistan
This is one of the larger Spodumene crystals that I have had the pleasure of describing. It seems to be made up of two crystals that grew so closely parallel to each other that they started out as a single crystal and then grew just enough apart so that one could see individual tendencies at their terminations. One of the terminations is about 5/8 inch shorter than its counterpart, and both are definite and sloping. They tend to have a waxy luster, whereas the prism faces have one which is vitreous. There is another termination at the other end of the crystal that makes up half of the end's surface area- the rest of that area is jagged, with only a tiny amount of partial healing evident. The crystal's color is a very pale green that does not qualify it as a hiddenite, although it is near gem-quality.