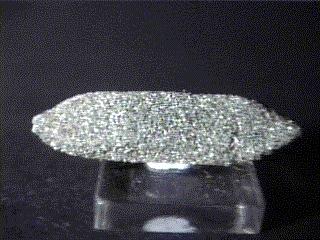 SPHENE
Specimen spe-1
$ 50.00
Dims: 1-1/4" x 7/16" x 1/8"
Wt: 2.6 g
Teufelomuhle, Habachtal, Austria
At a cursory glance, this specimen appears to be a long, flat blade of Sphene with an interesting, rough surface. Closer examination will reveal that there is evidence of it being an end-to-end penetration twin- one can see a very light outline of one end of a crystal near the center of the specimen. Examination under magnification will show that the surface, and possibly the interior, are sprinkled liberally with tiny chlorite crystals! I like sphene anyway, but this is choice!