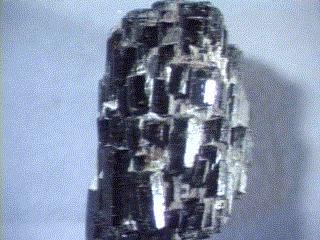 SCHORL
Specimen scl-2
$ 29.50
Dims: 3" x 2" x 1-3/4"
Wt: 9.3 oz
Minas Gerais, Brazil
I like this piece of Schorl best of all because of its many crystal faces. Interestingly enough, it reminds me of elestial quartz in the way that it has so many crystal faces, as if it's composed of a tight cluster of crystals that stacked themselves on each other. The other unusual trait that this piece possesses is the fact that none of the prism faces have striations running the length of the crystal! I don't think I've ever seen tourmaline like that before...