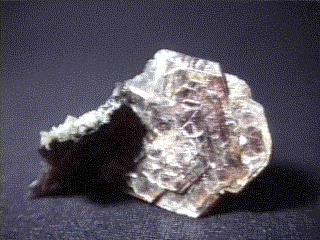 MUSCOVITE
Specimen mus-5
$ 27.50
Dims: 2" x 1-1/4" x 1-1/2"
Wt: 15.7 g
Aldeia do Eme, Minas Gerais, Brazil
I really like this specimen because of its simplicity. There's not a lot of intersecting and incomplete books, or other materials to convolute or interrupt the formation. We have 2 books of Muscovite, one complete, that intersect at each other's edges. The complete book has excellent form, and smaller hexagonal crystals stacked up on both its basal faces, producing attractive designs on them. Their color is a reddish brown, and they have the classic pearly, micaceous luster.