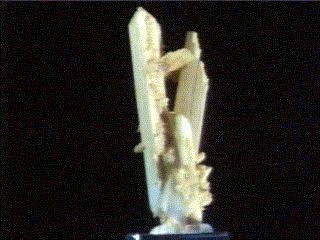 LAUMONTITE
Specimen lau-1
$ 40.00
Dims: 2-3/8" x 1" x 3/4"
Wt: 14 g
Pine Creek Mine, Bishop, Inyo County, California, U.S.A.
Two 2-inch-long crystals of monoclinic Laumontite dominate this specimen from the well-known Pine Creek locality in California. These crystals intersect at their bases and are connected near their terminations by what I'm pretty sure is a thin plate of Calcite. They are fibrous and prismatic, and are yellowish in color, probably due to staining from what looks like a sealant that the crystals have been coated with to prevent dehydration decomposition. Several smaller crystals, along with some tiny, blunt Calcites infest the base area, and one of the crystals has a near-perfect termination, whereas the other's has been broken off. This is quite a good-quality specimen.