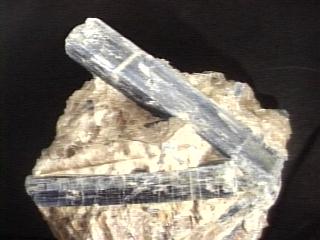 KYANITE
Specimen kya-4
$ 215.00
Dims: 6-1/4" x 6-1/2" x 3-1/2"
Wt: 4 lbs., 12 oz
Minas Gerais, Brazil
This specimen contains the largest single crystal of Kyanite that I have seen in my travels. This particular crystal measures up at 5-1/2 inches long, 1 inch wide, and about 5/8 inch thick! There are three other cystals on the specimen that are longer but thinner, and several that are simply smaller, but no less colorful. They all reside in a large mass of colorless Quartz that is heavily fragmented and has a yellowish tinge. This specimen is truly museum-quality.