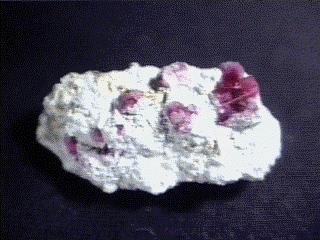 BERYL
Specimen ber-4
$ 105.00
Dims: 1-7/8" x 7/8" x 7/8"
Wt: 17 g
Violet Claim, Wah Wah Mts., Beaver Co., Utah, U.S.A.
There are about 8 definable crystals of Red Beryl in this specimen, among several shards of broken crystals that are embedded in the white, chalky matrix. Those that are complete generally have good hexagonal crystal form and minor damage, if any. Their color is a uniform deep red with a subtle violet highlight, and all are translucent, with enough transparency to see internal fractures and flaws in each. All of them have a vitreous luster on their undamaged faces.