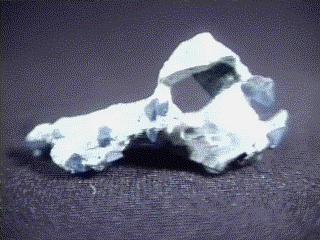 BENITOITE
Specimen ben-2
$ 140.00
Dims: 1" x 5/8" x 3/8"
Wt: 9.6 g
San Benito County, California, U.S.A.
This particular specimen is packed with 18 or 19 triangular Benitoite crystals. They all have good form, if incomplete, and a medium gray-blue color. They are translucent to transparent, and some, including the largest crystal on the specimen(1/4" long per side), have inclusions. Though the image doesn't do them justice, they all glow very brightly under shortwave UV radiation. There are two tiny neptunite crystals hitching a ride, too; one of them is double-terminated, and actually may be made up of two very thin double-terminated crystals that have grown side by side, and parallel to each other-they look like mirror-twins!