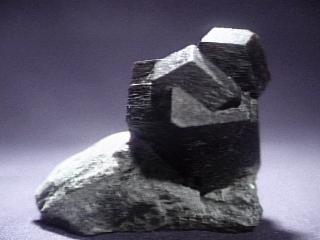 ALMANDINE
Specimen alm-3
$ 95.00
Dims: 5" x 3-3/4" x 2-1/4"
Wt: 1 lb., 4 oz
Wrangell, Alaska, U.S.A.
A cluster composed of 3 intergrown Almandine garnets adorns this Austrian specimen. The cluster makes up most of the specimen's mass, being rather large (1.45 x 1.38 x 1.5 or 3.7 x 3.5 x 3.8 cm), with one garnet making up the bulk of the cluster. The garnets have a deep red color, a waxy luster and excellent dodecahedral form. Although they appear almost black under normal lighting, holding them up to a bright light will reveal a surprising amount of translucence, with a deep red color. The crystals are rife with internal fractures, which reflect the incoming light so that the viewer can see the color. It rests on a small amount of a nondescript gray schist host. I am impressed by this specimen!