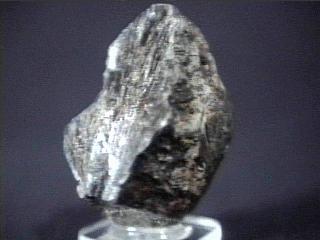 WOLFEITE
Specimen wof-2
$ 60.00
Dims: 1-7/8" x 1-3/8" x 1-1/8"
Wt: 3.1 oz
Big Fish River, Yukon, Canada
Wolfeite is likely identified according to its locality and its density, because the outsides of the specimens from the Big Fish River locality in Canada don't look at all like the insides! The specimen's exterior is somewhat nodular in form and seems to exhibit some concentric layering. It is basically black colored and it has some whitish patches that may denote weathering, and some rust staining. The interior is a different story, however; it consists of tightly-packed crystals that are almost fibrous in appearance, but make me think more that they would look like thin blades if they were loose. The interior's color is brown with just a hint of red, and the material seems to be translucent, although there is no way that light could penetrate the rough exterior. Some of these crystals span the height of the specimen, attaining lengths of 1-3/4 inches. I find this material to be rather interesting, especially with its deceiving coating.