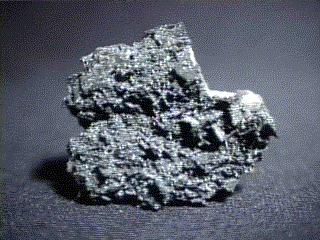 MOTTRAMITE
Specimen mot-1
$ 20.00
Dims: 2" x 1-3/4" x 1-1/8"
Wt: 1.31 oz
Total Wreck Mine, Pima Co., Arizona, U.S.A.
This specimen consists of a host rock that looks suspiciously like goethite, upon which are dozens of black, rectangular blades of Mottramite. These black blades are dusted with what appears to be microscopic crystals of more Mottramite, although I cannot really be certain. It makes me think of blades of black wulfenite covered with a tiny druse of goethite, or some other black mineral. The blades achieve a maximum length of about 3/16", and 1/8" width. I have recently been told by an illustrious and knowledgable rockhound by the name of Tim Jokela that this specimen is actually a pseudomorph after wulfenite; that makes a lot of sense, given the form that the Mottramite is in.