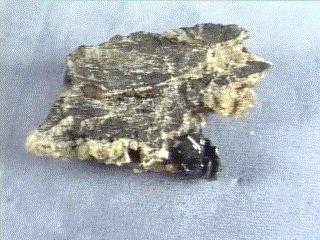 KULANITE
Specimen kul-1
$ 90.00
Dims: 2-1/8" x 1-1/4" x 3/4"
Wt: 27.2 g
Rapid Creek, Yukon Terr., Canada
There are several Kulanite crystals residing on the edge of the host rock in this specimen. The largest measures 1/4 inch in diameter and all are in the form of flattened prisms. The color initially looks black, but small fractured areas indicate a very dark, blue-green highlight. Thus, there is some damage to the crystals that is visible on one side of the specimen. The host rock is partially coated with a crust of small, gray-brown crystals of siderite. I do believe this is a rather rare item.