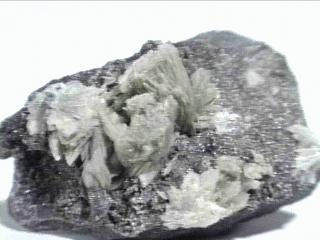 COLLINSITE
Specimen cln-1
$ 200.00
Dims: 2-3/8" x 1-1/2" x 1-1/4"
Wt: 2.0 oz
Rapid Creek, Yukon, Canada
I really don't have much to say about this mineral; it is relatively nondescript, and doesn't exhibit any unusual properties like fluorescence or phosphorescence. Basically, the specimen consists of gray-white radial blades of Collinsite on what appears to be a basalt matrix. The structure of the clusters of this mineral remind me just a bit of that of Moroccan barite specimens that I have seen. These clusters exceed 1/2 inch in diameter and have a waxy luster that is almost dull in some areas. The radial structure is intriguing, though, and the blades and their terminations are delicate. The most redeeming quality, though, is likely to be the material's rarity.