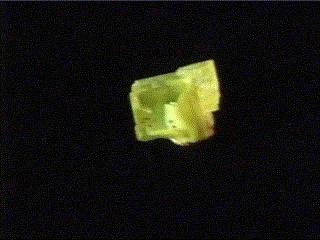 AUTUNITE
Specimen aut-3
$ 25.00
Dims:3/4" x 1/4" x 3/8"
Wt: approx. 1.4 g
San Pedro Mine, Malacacheta, Minas Gerais, Brazil
Several small stacks of platy, crystal sheets of autunite make up this thumbnail specimen. There is a small amoumt of a host rock that has broken free and is roaming around inside the container, which should be kept closed due to its high breakability. The color, a classic hallmark of uranium minerals, is a standard bright lemon-yellow color that glows a similarly bright green under a UV light. This specimen is quite pretty, and on the money for the acquirer of radioactive goodies.