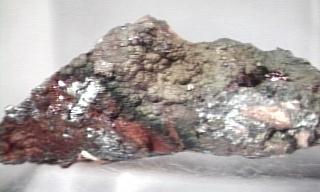 CUPRITE
Specimen cup-1
$ 200.00
Dims: 5"x1-1/2"x1-1/2"
Wt: 5.2 oz
Ray Mine, Kearney, Arizona
Deep red with a metallic to adamantine luster is the best way to describe the main attraction of this specimen. Resting on a bed of botryoidal Goethite are Cuprite crystals that measure up to 1/8 inch in diameter. The best crystals are huddled up in a tiny vug that offers them considerable protection. There are, however, small clusters of semi-crystalline masses or partly-crushed crystals scattered elsewhere on the specimen. The Goethite matrix turns from a blackish crust to a red-brown mass that looks a bit like a funky wood. It's a really neat rock!