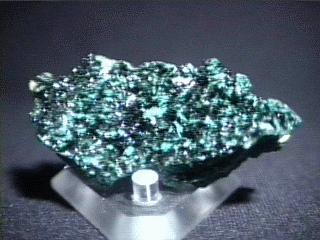 ATACAMITE
Specimen ata-3
$ 65.00
Dims: 3" x 1-1/2" x 3/4"
Wt: 1.36 oz
Lafarola Mine, Copiapo, Chile
This Atacamite specimen actually reminds me a bit of dioptase, with its intense green coloration and its chrysocolla base. There are hundreds of needle crystals coating one side of the flat, tabular piece, along with a few tiny, botryoidal chrysocolla formations. The Atacamite crystals are all a deep, deep green,measure 1/8" in length, maximum, and have a vitreous luster. The reverse of the specimen shows several flat radiating clusters of Atacamite that grew in a very narrow crevice that the specimen covered.