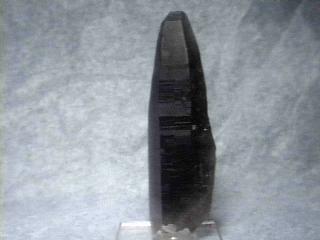 SMOKY_QUARTZ
Specimen smq-2
$ 75.00
Dims: 4" x 1-1/4" x 3/4"
Wt: 3.72 oz. w/ base
Qui-Buc Claims, Florissant, Teller Co., Colorado, U.S.A.
One large Smoky Quartz crystal makes up this specimen-- there is no host rock or any other rock or mineral present. The crystal has a dark brown color that is definitely naturally induced and a low luster that is reminiscent of a faintly frosted glass. The crystal is nearly perfect in form, with a very small amount of chipping between the primary termination faces, along the "basal edge". As far as I can tell, the clarity is good, with some slight color zonation and at least one large veil-like inclusion.