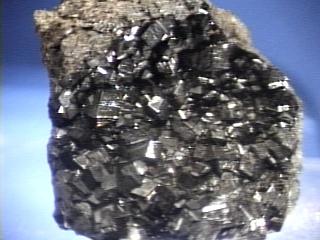 MELANITE
Specimen mln-1
$ 75.00
Dims: 3" x 3" x 2-3/4"
Wt: 15.1 oz
La Prieta Linda Mine, Chihuahua, Mexico
This piece represents the black variety of Andradite Garnet, known as Melanite. A cluster of this variety constitutes a face on the specimen, lining a slightly hollowed area. The largest of the exposed crystal faces measures 7/16 inch in diameter, and it denotes the commonly-occurring dodecahedral shape throughout the cluster. There are no complete, individual crystals, just many interconnecting ones. These faces have small but very neat geometric growth patterns on each of them. This rock is pretty neat!