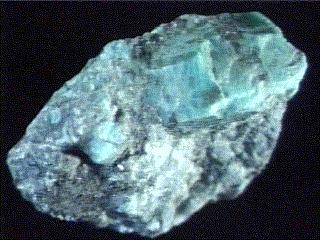 EMERALD
Specimen eme-4
$ 150.00
Dims: 5-3/8" x 3-1/4" x 3"
Wt: 2 lbs., 3 oz
Minas Gerais, Brazil
The Emerald crystals on this specimen are quite easy to see; they are huge. The largest of them dominates the piece, being 3 inches long and almost 2 inches wide. It, like its dozen-or-so smaller partners, has a patchy, opaque emerald-green color that is definitely not gem-quality. The large crystal has a broken end with no termination, and a healed break about an inch below that.