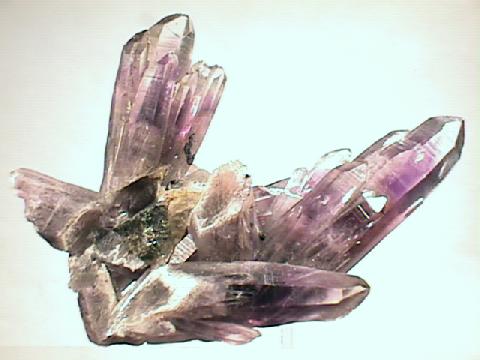 AMETHYST
Specimen ame-1
$ 450.00
Dims: 3-3/4" x 3-1/2" x 1-1/4"
Wt: 4 oz
Amatitlan, Guerrerro, Mexico
This piece is a fine example of some of the most valuable Amethyst available on the market today! For many years now the mines in Guerrerro, Mexico have been shut down, and no new clusters of long, clear, magnificent phantom crystals have been made available. We've got a piece. It is gorgeous, with over a dozen slender, clear crystals (in 3 or 4 connected clumps), the longest almost 2-1/2 inches, with easily visible phantoming. There is minor damage to several of the points, and some crystals (including what may originally have been the largest) are missing, probably lost in the effort to remove it from the host rock. Still, this piece is definitely a collector's item!