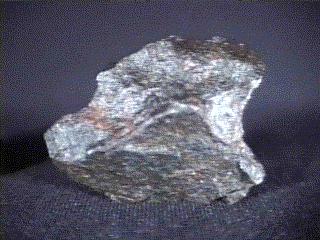 IRON
Specimen iro-5
$ 79.00
Dims: 2-1/4" x 1-3/4" x 3/4"
Wt: 3.12 oz
Gibbeon, Hoba, Namibia
This little Siderite meteorite is part of a find that is located in Namibia, whose total weight is estimated at 70 metric tons or more. It is irregularly shaped, and has substantial rusting and pitting on it, even after attempts to clean it with a phosphoric acid gel and a wire brush! It has been sprayed with a petroleum distillate for protection, but has scuff marks along some of its sharper edges, exposing the metal. Being a nickel-iron alloy, one could conceivably cut this meteorite with a thin kerf saw, and polish and acid-etch the cut faces to expose the lines and patterns that form from the cooling of the once-molten alloy, called Widmanstatten figures. Although there is no guarantee, there is a good probability that such figures will be present.