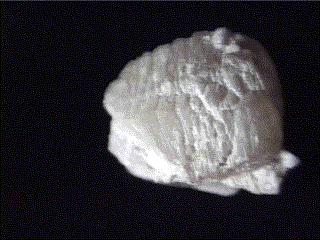 WITHERITE
Specimen wit-1
$ 19.00
Dims: 1-3/4" x 1-1/2" x 1-1/8"
Wt: 2.12 oz
Cave-In-Rock, Illinois, U.S.A.
This off-white pair of intergrown hexagonal columnar crystals is one of the neater specimens that I have seen come from the Cave-In-Rock locality of Illinois. The crystals seem to be made up of stacked platelets of the mineral, so the prism faces are heavily ridged. They have a dull luster and a rounded, indefinite terminations. A substantial portion of one of the crystals is missing, but seems to have undergone some healing, possibly with calcite or aragonite. As shown in the close-up frame, it is quite fluorescent, giving off a bright blue glow. There is a bit of the calcite/aragonite as a matrix.