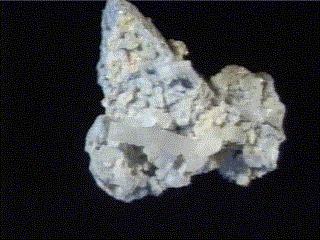 STRONTIANITE
Specimen str-1
$ 60.00
Dims: 2" x 1-7/8" x 1-1/8"
Wt: 31 g
Bruck Mar, Obersdorf-Lessing, Styria, Austria
The Strontianite on this specimen is already an uncommon find, yet these pseudohexagonal crystals are unusual even for this mineral. The individual crystals reach up to 1/2 inch long and 1/8 inch wide, and have a waxy luster and striations on the crystal faces perpendicular to length. They rest on a bed of massive Magnesite that has a blue-cream color and a granular form. This material is not at all easy to get, and though small, this specimen is definitely a collector's piece.