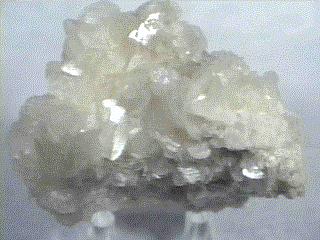 MAGNESITE
Specimen mgs-2
$ 75.00
Dims: 2-3/4" x 2-1/2" x 2-1/4"
Wt: 7.08 oz
Mt. Brussilof Mine(near Radium), Brtish Columbia, Canada
This large, heavy specimen is packed with fan-shaped Magnesite blades! The largest measures about 1/2" wide, and like its siblings, has good clarity, clean faces with little damage(if any), and a sharp, curving edge. There may or may not be a matrix rock; it is covered with tiny crystals. There are lots of these crystals!